Argyle 332102 , black with bump cap
Brand: Steel Blue
Options
Please select a valid Size
Description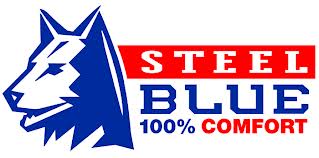 Argyle
Description: 150mm derby style lace-up
ankle boot with padded collar and tongue
with Bump Cap.

Colour: Black (pictured), Whiskey or Wheat.

Toe Cap: 200J Safety Steel.

Material: Cowhide water-resistant fullgrain waxy
leather (or Nubuck), Baltico® linings and stitched
in nylon thread. Non-Corrosive Lacing.

Lining Materials: This boot is lined with Baltico®,
which is a soft, non-abrasive, hydrophobic
material that wicks perspiration away from the
foot, enabling the skin to remain cool and dry.

Sole: Directly moulded Polyurethane midsole for
greater shock absorption. Antistatic Thermoplastic
Urethane (TPU) outsole for superior wear
properties.

Width Fitting: Generous and comfortable.
Standards: Australian Standards AS/NZS 2210.

3 classification: 1 A E WRU • European Standards
EN ISO 20345: S2 • American Standards ASTM F
2413-05: M I/75 C/75 SD

Insole: Heavy-duty, flexible anti-bacterial
non-woven insole.
Trisole™ Comfort Technology Soling System:
The Steel Blue soling system is a patented three
density soling system that offers a high level of
comfort, shock absorbency and energy return.
The system uses PORON® as energy absorbing
pads under the pressure points of the foot to
give the wearer superior comfort and offers
similar shock absorbency and comfort to sports
footwear.

Full Innersole: A full length footbed that is
inserted into the footwear to offer additional
support and comfort. This footbed is made from
soft polyurethane that will retain its shape and
thickness throughout the life of the boot.

Also Available: TPU/Non Safety 310102, Nitrile/
Non Safety 320102, TPU Outsole 312102, Nitrile/
Bump Cap 342102, Nitrile Outsole 322102, TPU/
Bump Cap/PR Midsole 362102, Nitrile/PR Midsole
372102, Nitrile/Bump
Independently Certified to Major
International Safety Standards
Meets International Safety Standards
✔ Australian/NZ Standard AS/NZS 2210 3
✔ American Standard ASTM F2413
✔ European Standard EN ISO20345
Steel Blue Warranty
Steel Blue only use premium manufacturing technology to ensure your work boots are built to last. However, if you do have a manufacturing issue with your footwear (and it has been correctly fitted and maintained) the Six Month Manufacturer\'s Warranty will ensure your boots are replaced or refunded.
Steel Blue Six Month Manufacturer\'s Warranty Terms and Conditions: This product contains a warranty against defects in material and construction (where sold in manufacturer\'s condition) (Warranty). Any claim under this Warranty must be made within 6 months of the date of purchase of the product. This Warranty is given by Footwear Industries Pty Ltd ABN 15 068 608 917 (Footwear Industries) of PO Box 2320, Malaga, Western Australia 6944, contactable by telephone on (08) 9209 3322 or by email at boots@steelblue.com.au To make a claim under the Warranty you must present the product, together with proof of purchase or issue, to the store where you purchased the product from. If the product is defective and does meet the Warranty, you will be provided with a replacement product, or where that is not possible, a refund. This Warranty will not apply to products that have been misused, or used in a manner contrary to the purpose or suitability of the product. Forms of misuse may include, but are not limited to cuts, heat/burns, exposure to chemicals, exposure to lime or excessive water or force, if the product is not designed or suitable for that purpose. The product may be considered not suitable for purpose, and the Warranty may not apply, where the product was incorrectly fitted or subject to excessive wear and tear. Footwear Industries will pay your reasonable, direct expenses of claiming under this Warranty. You may submit details and proof of your expense claim to Footwear Industries for consideration. This Warranty is provided in addition to other rights and remedies you have under law. Our goods come with guarantees that cannot be excluded under the Australian Consumer Law. You are entitled to a replacement or refund for a major failure and compensation for any reasonably foreseeable loss or damage. You are also entitled to have the goods repaired or replaced if the goods fail to be of acceptable quality and the failure does not amount to a major failure.
More Boots in our range