A-Frame Plastic Signs - Various Designs
Brand: WA Safety
This product is available on request.

If you would like to enquire about this product please contact us below.
Email Enquiry
Description
We have various plastic a-frame signs
Limited by your imagination we can custom make a sign to suit
Orange or yellow avaiable
Heavyweight plastic for longer life and greater
stability
Hinge limiter ensures legs open to correct position
Also available: Custom messages to order.
To view a larger range of signs please see here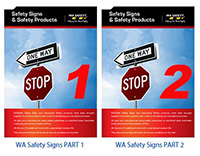 More A Frame Signs in our range