Oliver Work Boots 55-245B
Brand: Oliver
Options
Please select a valid Size
Description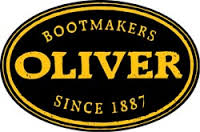 Oliver Work Boots 55-245B 150mm (6") Lace Up Boot

Steel Toe Cap, with Comfort Liner

Colour: Black

Sizes: 4-14, 6 1/2 - 10 1/2

COMFORTcushion PU/PORON Impact Absorption System - reduces leg and lower back fatigue
Fully Lined with Padded Comfort Collar and Tongue
Lace Locking Device
TECtuff Toe Bumper and Heel Protection
Water Resistant Full Grain Leather
Wide Profile NATUREform Type 1 Steel Toe Cap, with Comfort Liner
Heavy Duty AT\'s All Terrain Dual Density PU / Rubber Sole, Heat Resistant to 300º Celsius and Resists Exposure to most Acids and Chemicals
Anti Static Sole
NANOlite Footbed Massages your feet as you walk, promoting greater blood flow to help reduce fatigue
Kevlar Thread on Critical Wear Seams for Maximum Abrasion and Chemical Resistance


AT\'s All Terrain Dual Density PU/Rubber Soling Technology


The AT55's sole consists of a lightweight, shock absorbing low density PU (polyurethane) midsole which cushions the foot impact to provide unmatched comfort and help reduce foot, leg and lower back fatigue. The All Terrain rubber outsole provides superior grip and abrasion resistance.

AT\'s All Terrain Dual Density PU/Rubber Features:

Heat resistant to 300° Celsius (572° F)
Superb midsole cushioning with high density hard wearing rubber outsole
Antistatic
Excellent slip resistance
Lightweight sole. Ideal for a long shift or extended use.
Sole resistant to most oils, acids, chemicals and animal fats.
Long wearing ALL TERRAIN rubber outsole designed for superior grip and durability.


Suitable for industries such as:
AGRICULTURE BUILDING & CONST FOOD PROCESSING
FORESTRY FOUNDRIES/SMELTERS KITCHENS COMMERCIAL
MANUFACTURING METALS IND/WELDING MINING & QUARRYING
TRANSPORT & STORAGE

* * * * * *

Oliver Footwear, Australia's leading Safety Footwear Manufacturer owes its origins to gold mining in the Victorian provincial city of Ballarat.

Our founder James Oliver, a bootmaker by trade, came to the goldfields of Ballarat, then amongst the richest alluvial and underground mining fields in the world, in the mid 1800's.

His quest for the elusive nuggets was unsuccessful, so he returned to the trade of bootmaking which he had learned in the U.K.

Established as the business of Oliver & Stevens, the new venture commenced producing tough and durable boots for miners and farmers in 1887.

The same entrepreneurial streak which marked the establishment of the business in 1887 continues today with Oliver Footwear building on its commitment to footwear manufacturing in Ballarat, Australia, operating a modern manufacturing plant supported by a dedicated team of employees, lead by Andrew Oliver, a fourth generation descendant of our founder..

Product research and development to address the needs and demands of tough workplace safety environments will always be a central part of our company philosophy.

Ongoing investment in manufacturing technology, business systems and people ensures that Oliver continues to adopt world's best practice in all parts of the business.

Oliver is part of the KSW Group, the third largest branded safety footwear company in the world.

Ongoing investment in manufacturing technology, business systems and people ensures that Oliver continues to adopt world's best practice in all parts of the business.

Oliver is part of the KSW Group, the third largest branded safety footwear company in the world
OLIVER 6 MONTH MANUFACTURER'S WARRANTY…

Oliver stands for quality, comfort and protection. That's why our safety footwear is backed by a 6 month Manufacturers warranty…
the Oliver Promise.

Oliver leather safety shoes and boots are warranted for six (6) months from the date of purchase against defective workmanship and/or materials when used under normal conditions for the purpose intended. The warranty is void if in the opinion of Oliver that the product has been misused or subject to excessive wear and tear including exposure to chemicals, cement, lime or heat if the footwear has not been designed to be used in these environments.

As a requirement of this warranty the purchaser must present the footwear and provide evidence of purchase. Please return the footwear to the place of purchase. The footwear will then be returned to Oliver for inspection by an authorized Oliver employee. If the footwear is defective they will be repaired and returned where possible, otherwise replacement footwear will be provided by Oliver.

This warranty is in addition to, and does not limit consumer's statutory rights.

Our goods come with guarantees that cannot be excluded under the Australian Consumer Law. You are entitled to a replacement or refund for a major failure and for compensation for any other reasonably foreseeable loss or damage. You are also entitled to have the goods repaired or replaced if the goods fail to be of acceptable quality and the failure does not amount to a major failure.
More Boots in our range